King Of Clubs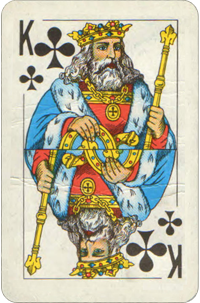 Kings are associated with Number Thirteen (13) - The Number of Love and Unity, and among the wiser ones, these qualities, together with their number, were held to be sacred. All Kings are the Jacob of the Bible: the founders and fathers of the twelve tribes who have entrusted the children to the source of All Good. Kings are usually the most sympathetic and understanding people. They know subconsciously that power depends upon cooperation, and whatever life they lead, their best work is done in partnership. They always have a sense of authority, but it seldom leads to domination.
The King of Clubs people holds their power by knowledge. Mental development is the best way to progress. By nature, the King of Clubs is spiritually minded, argumentative and aggressive. They need to work in association with others, exchanging ideas, learning in discussions, succeeding in making agreements and unions. Their brain can handle tons of data, records, papers, messages, and there is a possibility to lose themselves in details, and dive into the rut of routine. King of Clubs is progressive and should live up to the expectation. From time to time, they must give themselves a shot from over-satisfaction in the name of progress.
The King of Clubs have a gift of fluent writing, and they make money through their efforts. Being too slow can irritate their restless mind. Real estate, law, bonds, and stock are the fields, where they can combine their inner desire for security with their ability to make constant changes, or travel.
One significant aspect that plays the crucial role in the King of Clubs life is the partnerships. Success relates to their ability to work well with others, but they should stay away from putting too much responsibility on their partners.
The King of Club's mission is to contribute to the progress of our civilization, and through the recognition of wisdom and the refusal of self-indulgence and pleasures, they can become the most excellent teachers and spiritual leaders - the master rulers of the humankind.
People
Kings
Kings are essentially the rulers of their suit. They were born to command. King represent the ultimate expression of any suit. Kings are the ones who making the laws to themselves and others. It symbolizes the male principle. They are natural leaders with nothing to prove to anybody. If you are the King, you are fortunate in the great potential this card promises. You may rest and never answer you inner call to rule, it is you choice, but your best expression is in the leadership. The kingdom you rule depends from your suit - it can be love and relationship (Hearts), knowledge (Clubs), realm of values (Diamonds), work and wisdom (Spades).
Clubs
Each suit represents one of our stages of life. Clubs correspond with our school years, the Summer season, the element Air - the functioning mind of man. Clubs are the guardians of intelligence and rule all mental processes, all psychological reactions, all communications, and messages. They argue, debate, spread the news, investigate, record. Clubs rule all forms of education, legal matters, literature and journalism. If your birthday identifies you as a Club, your prime asset is your mind. People who born as Clubs are interested in ideas and ways of communication. They are looking for truth - in and out. They strive to know facts, details and reasons behind anything happen in life. This vital search for knowledge give them the quality of a "thinker". They are able to counteract their emotions and feeling and solve any issue in an effective and rational manner. Clubs are very active and aggressive especially when they want to express their ideas and thoughts. Their prime weapon in life is their mind, and someone attacking their ideas may become the greatest enemy. You will do well in occupations which provide you with opportunity to share your knowledge, mental power with others - such as teaching, law, writing and counseling.