Jack Of Clubs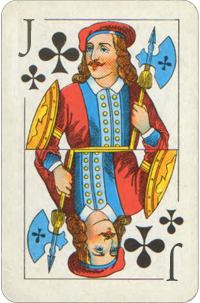 All Jacks correspond to number 11. By some called the number of Evil because it transcended the number of commandments, and did not attain 12, the number of Grace and perfection. History and experience refuse its stigma. Number 11 is the most priceless gift of God. It is a man (1) beside God (10). Jacks are sons of the Kings. They carry great responsibility, and the disposal of their lives rests entirely on their decision. They represent the mental attitudes of any suit, and of course, our mental attitudes are entirely within our control. We can rule them and win the crown, or we may consign them to every wind that blows and struggle in a state of immaturity as long as we live.
The Jack of Clubs wins their crown through the spoken word. This card is also called the card of Memory. As a rule, people who born Jack of Clubs have this gift to an extraordinary degree. They store in them such a tremendous wealth of knowledge they naturally turn into teaching, writing, or speaking. They give out sincerely, and they are always rewarded greatly.
The Jack of Clubs is also the card of the future. It is a symbol of the state to which our race is evolving. For that reason, the present manifestation is often neutral. Many of the women Jack of Clubs fail to marry. Most of them have masculine minds and habits of life.
The best kind of work for Jack of Clubs is in the mental field. They must express themselves, or they suffer. They have a terrific drive to give out and to keep learning more and more. It is a tragic thing when Jack of Clubs is deprived of a good education. They will add to the knowledge, no matter what problems they must overcome, but a good educational background is a great help.
The Jack of Clubs is talented, intellectual and enthusiastic. They can succeed in occupations that involve contacts. People are exceedingly crucial as outlets for their abilities and as companions to fill the gap in their loneliness. They are often skeptical and shifting in beliefs. They can put their knowledge to work for them, or they can live by their wits.
Even though the money can seem to be the root of many of Jack of Clubs problems, people born Jack of Clubs can rise to the top of just any profession or activity they choose. Willingness to assume the responsibility of authority could prove the entree to their fortune. Work and well-balanced way of life can achieve financial stability.
The best years of Jack of Clubs come after forty-two. Money can be provided by inheritance, insurance, or the fruits of their past efforts. Any foreign interests are successful.
People
Jacks
Jack is a prince of Royal Family. It gives you a certain abilities, including mental creativity, freedom from limitations, and the opportunity to dig into the royal treasury. Jack is also considered immature card, and you must prove your greatness by taking more responsibility. Jacks are youthful, enthusiastic and often talented. You like to live by your own rules which created the Jack reputation of being the playboys and playgirls of the deck. Women with Jack card have an aggressive quality, kind of man's mind. Men may go extremes from being almost feminine to the dictatorial attitudes. Jack are given the power, and with exercising more control, discipline and mastering the right application of your power makes Jack very successful leaders, artists, performers, politicians etc.
Clubs
Each suit represents one of our stages of life. Clubs correspond with our school years, the Summer season, the element Air - the functioning mind of man. Clubs are the guardians of intelligence and rule all mental processes, all psychological reactions, all communications, and messages. They argue, debate, spread the news, investigate, record. Clubs rule all forms of education, legal matters, literature and journalism. If your birthday identifies you as a Club, your prime asset is your mind. People who born as Clubs are interested in ideas and ways of communication. They are looking for truth - in and out. They strive to know facts, details and reasons behind anything happen in life. This vital search for knowledge give them the quality of a "thinker". They are able to counteract their emotions and feeling and solve any issue in an effective and rational manner. Clubs are very active and aggressive especially when they want to express their ideas and thoughts. Their prime weapon in life is their mind, and someone attacking their ideas may become the greatest enemy. You will do well in occupations which provide you with opportunity to share your knowledge, mental power with others - such as teaching, law, writing and counseling.