Ace Of Spades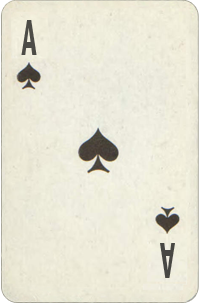 The Ace of Spades birth card called "The Key To The Mystery Of Life," the most spiritual card in the deck. As much as Ace of Spades probably would like to hide their private life from public, people are drawn to them for help, advice and almost psychic energy no one can truly understand but everyone feels and embraces. Big part of Ace of Spades can feel pain and imperfectness of this world and human beings, and ready to love and sacrifice for the world to be a better place. From an early age, they learn to read people carefully, and choose friends with caution.
Ace of Spades love to lead a luxurious lifestyle, surround themselves with beautiful things and tend to spend more than they can afford on friends and family. In their quest for ideal love, Ace of Spades can find out the reality is far from their expectations. But there is a place when they find a piece of mind - and that's their work and career.
The Ace of Spades love to work and able to pursue their objectives. With persistence and self-discipline they can achieve any goal they put in front of them. They have a tremendous pool of wisdom and mental knowledge. Great intellectual potential should be used and to be emphasized by learning activities and education. They will the most satisfied if work involves travel. Otherwise, they may not stick to one job for a long. At work Ace of Spades prefer to deal with men rather than with women. Many Aces of Spades become athletes or get themselves with any kind of professions involving groups of men. They have great energy and prefer a variety of action with the opportunity to move around and travel.
Ace of Spades can see their life as a series of transformations. Understanding their great spiritual potential and unlocking the mystery of this world will make them a source of inspiration for many people. They have the definite ability to become masters of this universe like no other birthday.
People
Aces
Ace suit suggests a strong sense of independence, desire to excel and to lead. It is the most ambitious card and can bring those who identified with it to the greatest heights. "Dream the impossible dream" is the deepest motivation of these people, and the hidden motive is self-acceptance. Ace promotes masculine energy expressed as action and accomplishment. Aces represent Desire. It can be desire to love, knowledge, wealth or wisdom. Aces aren't usually know for their patience, because they have so much to accomplish in this lifetime and so little time to do it and there's no time to stay and look inside themselves, or waiting for others. They may appear selfish at times, but it comes from a compelling urge for freedom and action, and preoccupation to establish their own identity.
Spades
Each suit represents one of our stages of life. Spades correspond with an older age, a Winter season and the element Earth. Spades will have this look of wisdom on their faces. As a higher and the most powerful suit of all, Spades overlook life with a position of authority. Emotions, intellectual games and evaluation of things do not excite them as much as willpower and wisdom. Spades stand for Labor and Higher Wisdom. Spades want to find the Truth. A suit of extremes, on a higher side Spades are spiritual giants. In life, they work hard for something that they believe worth it. They want to get the job done and take a pride in the quality of the end product. Spades will not allow anyone to be in control of their life. With a tremendous potential of willpower, they are the ones who can accept responsibilities and work through any issues to a successful completion. If the person who is identified with Spades understands his or her true potential - the keys to the infinite wisdom, they find happiness and the greatest satisfaction of all. Spades rule 49 birthdays. The ruling planets are Saturn and Uranus.